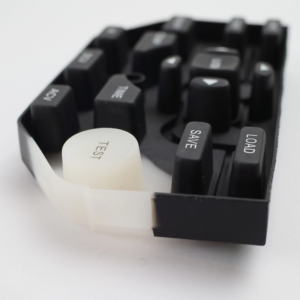 Overview
Cutting-edge silicone keyboard, is crafted using advanced molding technology that ensures meticulous material control within the mold. Our rapid and accurate whole die-casting molding process guarantees every intricate detail, resulting in superior quality. The surface is expertly coated with rubber matte oil, serving a dual purpose as a dustproof shield and providing a soft, uniform texture for a comfortable tactile experience. This exceptional coating elevates the operational feel, enhancing user satisfaction. Our innovative design incorporates shading block enhancements, with the surface undergoing meticulous spray treatment. Laser carving technology is employed to inscribe characters and patterns according to specific requirements. The shading blocks not only enhance overall light transmission but also allow customization. Each button can have simultaneous different colored light transmissions, catering to diverse visual needs. Experience the perfect blend of functionality and aesthetics with our meticulously crafted silicone keyboard. Precision meets comfort in this revolutionary keyboard, offering unparalleled performance and a visually appealing design.
Specification
Type: membrane switch, silicone keypad
Material: silicone rubber
Color: transparent or any colors
Hardness:shore A 30°~80°
Size: customized size
Tolerance: based on customer's requirement
Printing: silk screen, radium carving
Molded Way: compression molded
Conductive Way: carbon pills, conductive ink printing, metal domes, metal pills
Surface Protective: pu coating, matte smooth coating, epoxy coating
Performance: aging resistance, eco-friendly, harmless, non-toxic, non-corrosive, durable
Certificate: ISO9001-2015, IATF16949, ROHS
OEM/ODM: available
Samples: free available samples
Packing: PE bag & carton, customized packing
Logo: silk printing, laser etching
Application: industrial, medical, automotive, consumer electronics, household, etc
Our Advantages:
Expert Silicone Manufacturing: Our cutting-edge silicone button manufacturing facility employs precision mold technology, ensuring unparalleled quality and precision in every product.
Certified Hygiene Standards: Operating within certified clean plants, we customize silicone products to meet rigorous medical and food-grade standards, ensuring impeccable hygiene across diverse industries.
Swift and Precise Responses: We prioritize efficiency. Expect rapid and accurate responses to your inquiries. Share your samples, designs, and requirements, and receive prompt quotations, saving valuable time.
Flexible Logistics Solutions: Tailoring to your needs, choose your preferred forwarder or leverage our reliable transportation partners. Our flexible approach ensures smooth logistics operations tailored to your preferences.
Cost-Effective Molding for Large Orders: Benefit from our cost coverage for new molds on large orders. Streamlining processes, we provide economical solutions for your bulk requirements, ensuring affordability without compromising quality.
Comprehensive Global Export Services: Our dedicated import-export division handles seamless global transactions. Experience hassle-free international trade, allowing you to confidently expand your global presence. Trust us for a smooth and successful global business journey.