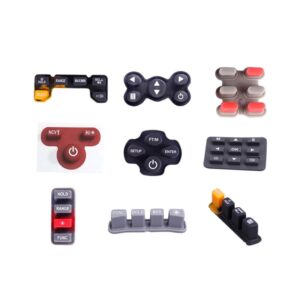 Product Description
Matte Smooth Silicone Keyboards, also known as Oil Coating Silicone Keypads, play a vital role in surface protection. This protective oil layer acts as a shield, preserving the symbols and characters on the rubber keypad from wear and tear, thus prolonging the product's life span. During the manufacturing process, symbols and graphics are printed onto the rubber keypad's surface. Subsequently, a fine mist of protective oil is applied, creating a matte and smooth texture. Oil coating is typically used for keypads featuring silkscreen printed characters and symbols, while PU coating is commonly applied to laser-etched silicone keypads. This versatile method ensures the longevity and quality of silicone keypads.
Specification
Material: silicone rubber
Color: transparent and other colors
Hardness:shore A 30°~80°
Size: customized size
Legends: screen printing or laser etching & engraving
Molded Way: compression molded
Conductive Way: carbon pills, conductive ink printing, metal domes, metal pills
Surface Protective: pu coating, matte smooth coating, epoxy coating, plastic & metal
Performance: aging resistance, cold resistance, heat resistance, chemical stability
Certificate: ISO9001-2015, IATF16949
OEM/ODM: available
Samples: free available samples
Logo: customized (silkscreen logo, embossed or debossed logo)
Application: industrial, medical, automotive, electronic, household, toy, etc
Surface Protections Choices for Silicone Rubber Keypads
Apart from oil coating, there are three other surface protection choices: PU (polyurethane) coating, epoxy coating, and plastic keycaps. While oil coating is the most budget-friendly option, PU and epoxy coatings offer enhanced durability with their solid surface protection.
Both oil-coated and PU-coated silicone keypads feature matte surfaces. In contrast, epoxy-coated rubber keypads boast a clear and appealing resin layer. Plastic keycaps, while effective, tend to be pricier due to molding and labor expenses.
These protection methods all share the common goal of extending the lifespan of keypads, preserving icons and graphics, and retaining the colors of silicone buttons.
Silicone Keypad Varieties Based on Graphic Processing Methods
Backlit Keypads:

In backlit keypads, characters or graphics are precisely laser-etched onto the silicone button surface. This meticulous process allows LED light to diffuse through the laser-etched graphics, ensuring even illumination. Laser engraving offers a wide range of design possibilities, with options for both Pantone colors and RAL colors.
Silkscreen Printed Silicone Buttons:

Silkscreen printing involves applying ink onto the surface of silicone buttons, followed by a drying process. This method is commonly used for rubber keyboards. It allows for vibrant and detailed designs on the silicone keypad surface, using both Pantone colors and RAL colors.
We provide comprehensive keypad solutions and expert guidance tailored to your specific design and production needs. This ensures the creation of high-quality, customized silicone keypads suitable for various applications.