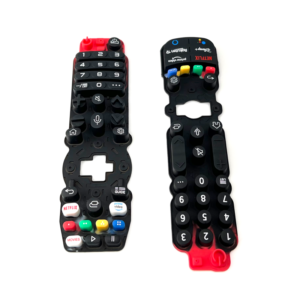 Overview
High-performance Customized Silkscreened Printing Silicone Rubber Keypad Buttons are meticulously engineered for unparalleled functionality and durability. Crafted from top-tier silicone rubber with a Shore A hardness range of 30° to 80°, these buttons deliver precise tactile response and user-friendly operation. Available in transparent or custom colors, they feature intricate designs through silkscreen printing, ensuring both visual appeal and reliable functionality. These buttons boast advanced conductivity options, including carbon pills, conductive ink printing, metal domes, or metal pills, ensuring consistent electrical performance. Enhanced with surface protection options such as PU coating, matte smooth coating, or epoxy coating, they guarantee increased longevity and resilience against wear and tear. Certified with ISO9001-2015, IATF16949, and ROHS, our buttons meet stringent quality standards, guaranteeing superior quality. With resistance to aging, cold, heat, chemicals, and waterproof capabilities, these eco-friendly buttons are ideal for a wide range of applications. 
Specification
Material: silicone rubber
Color: transparent or any colors
Hardness: shore A 30°~80°
Size: customized size
Tolerance: based on customer's requirement
Printing: silk screen, radium carving
Molded Way: compression molded
Conductive Way: carbon pills, conductive ink printing, metal domes, metal pills
Surface Protective: pu coating, matte smooth coating, epoxy coating
Performance: aging resistance, cold resistance, heat resistance, chemical stability, waterproof, eco-friendly, durable
Certificate: ISO9001-2015, IATF16949, ROHS
OEM/ODM: available
Samples: free available samples
Packing: PE bag & carton, customized packing
Logo: silk printing, laser etching
Application: industrial, medical, automotive, consumer electronics, household, etc
Application
Industrial Sector:
These buttons are crucial components in industrial automation systems, integrated into control panels for machinery and equipment. Their durable construction and precise tactile feedback ensure reliable operation in demanding industrial environments.
Medical Devices:
Medical professionals rely on these buttons in diagnostic equipment, patient monitoring devices, and medical instruments. The hygienic surface coatings and dependable functionality make them indispensable in critical healthcare settings, ensuring accurate and efficient operation.
Automotive Industry:
Automobile manufacturers incorporate these buttons into car interiors for multimedia systems, climate control, and dashboard functions. Their resistance to wear and tear, coupled with customizable designs, enhances user experience, providing effortless control and functionality within vehicles.
Consumer Electronics:
Silkscreened silicone rubber buttons are seamlessly integrated into remote controls for televisions, audio systems, and home appliances. Their responsive feedback and long-lasting performance guarantee smooth user interactions, improving the usability of electronic devices.
Household Appliances:
These buttons are extensively utilized in household appliances like microwave ovens, washing machines, and air conditioners. Their waterproof properties and resistance to environmental factors ensure prolonged durability and reliable performance, making them ideal for everyday home use.