We provide custom designe  of the POS system, including the shape, size, and layout of the keys to suit the specific application.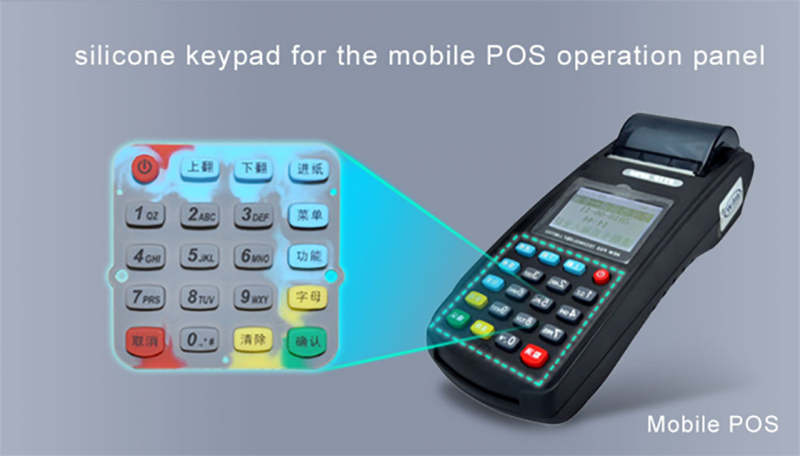 Material and Durability: These silicone rubber keys are typically made from high-quality silicone rubber material, offering excellent durability. They can withstand daily use and frequent pressing, ensuring long-term reliable performance.
Waterproof and Resistant to Dirt: POS machine silicone rubber keys are designed with good waterproof and dirt-resistant properties to handle liquids and dirt in commercial and retail environments.
Tactile Feedback: Silicone rubber keys typically provide clear tactile feedback, ensuring that operators receive a distinct response when pressing the keys, guaranteeing accurate input and operation.
High-Temperature Performance: Some POS machine silicone rubber keys exhibit outstanding high-temperature performance, making them suitable for applications that operate in high-temperature environments, such as kitchen POS terminals.
Branding and Color: Brand logos or specific colors can be printed on the keys to enhance brand recognition and product personalization.
Low-Noise Operation: These keys typically generate minimal noise during operation, making them suitable for commercial environments where they won't disrupt users or customers.
Wide Applications: POS machine silicone rubber keys find widespread applications in various industries, including retail, food services, hotels, healthcare, and more, for transaction processing, order entry, and operational control.
Long-Term Reliability: The design and material of these silicone rubber keys ensure that they can maintain long-term reliable performance under high-usage conditions, contributing to the efficiency of POS systems.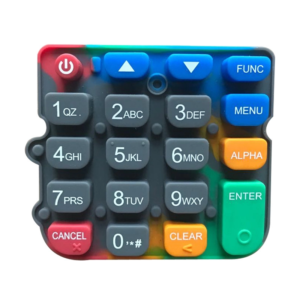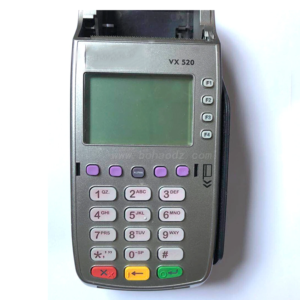 Key Points in the Design of POS Machine Silicone Rubber Keypads
Custom User Interface: First, understand the specific requirements of the customer and the POS machine's user interface. This includes the number of keys, layout, symbols, and functions. Work closely with the customer and the POS machine manufacturer to ensure that the design meets their expected appearance and performance.
Silicone Rubber Material Selection: Choose silicone rubber material based on the customer's environmental conditions and requirements, ensuring it possesses the required durability, wear resistance, and dust and splash resistance. If the POS machine will be used outdoors or in harsh environments, consider special weather-resistant silicone rubber.
Tactile Feedback Design: Determine the type of tactile feedback required, such as light touch or distinct click feel. Design the shape, elasticity, and feel of the silicone rubber keys to provide the desired user experience.
Symbols and Labels: Customize symbols, logos, and labels on the keys based on the customer's branding and functional requirements. Ensure they are clear, durable, and do not fade.
Durability and Lifespan: Given that POS machines typically undergo high-frequency usage, ensure the design of the silicone rubber keys offers sufficient durability to withstand thousands of presses. Use high-quality silicone rubber material and reinforced internal structures to extend the keys' lifespan.
Electrical Connection and Integration: Ensure that the silicone rubber keys establish a reliable connection with the POS machine's circuit board to transmit user input signals. Ensure they seamlessly integrate with the machine's casing and control panel.
Color and Appearance: Customize the color and appearance of the keys to match the customer's branding requirements and the overall look of the POS machine. Ensure they align with the machine's overall appearance and contribute to a professional image.
Quality Control: Implement strict quality control procedures throughout the production process to ensure the consistency and reliability of each silicone rubber key. Conduct rigorous testing, including tactile feedback, conductivity, and durability tests.
Surface Treatments For POS Machine Silicone Rubber Keypads
Applications
Application Pos

Small card reader