Our Custom Silicone Bath Body Brush is a specially designed bathing accessory crafted from high-quality silicone. It offers a unique and enjoyable bathing experience, combining gentle exfoliation, cleansing, and massage in one versatile product.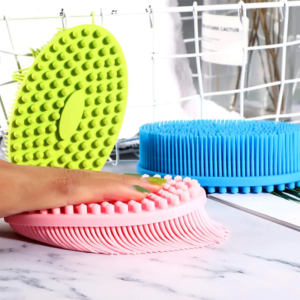 Material: The body brush is made from premium food-grade silicone, ensuring it is safe for the skin and resistant to mildew and bacteria. The soft yet durable silicone bristles are non-abrasive and suitable for all skin types, even sensitive skin.
Design: The silicone bath body brush features an ergonomic design with a handle for a comfortable grip. Its bristle side provides a gentle exfoliation, while the massaging nubs on the reverse side enhance blood circulation and relaxation.
Versatility: This bath body brush is designed for a variety of uses, including cleansing, exfoliating, and massaging. It can be used with soap, shower gel, or body scrub to create a luxurious lather and thoroughly cleanse the skin.
Hygiene: The silicone material is easy to clean and quick to dry, making it a hygienic choice for bath accessories. It is also resistant to mold and bacteria, ensuring long-term use.
Sustainability: Our silicone body brush is an eco-friendly option as it is reusable and can replace disposable bath sponges or brushes, reducing plastic waste.
Relaxation: The massaging nubs on the brush side help relieve muscle tension, stimulate blood circulation, and provide a spa-like experience in the comfort of your own bathroom.
Durable: Silicone is known for its durability and longevity. This bath body brush is built to withstand frequent use, ensuring it remains a staple in your bathing routine for an extended period.
Easy to Store: The brush comes with a hanging loop for convenient storage in the bathroom, allowing it to dry properly between uses.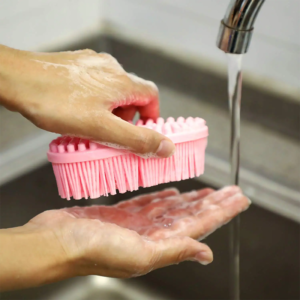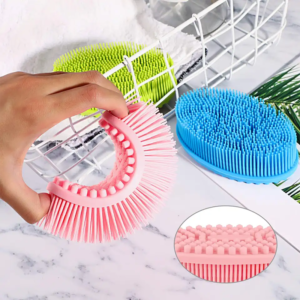 Customization