Custom Silicone Wedding Rings: Unique Gifts for Men
Our custom silicone wedding rings are the perfect choice when you want to make a statement about love and commitment. Crafted with precision and designed for durability, these rings are not just symbolic; they are a testament to individuality and personal style. Here's why our custom silicone wedding rings make fantastic gifts for men:
Personalization: We offer the option to customize these rings with unique colors, designs, or even initials. This personal touch adds a meaningful and individualized element to the gift.
Comfort and Flexibility: Silicone rings are incredibly comfortable to wear, making them an ideal choice for active men. They are flexible, adapting to the wearer's finger for a snug fit.
Safety: For those who work in jobs or hobbies where traditional metal rings can pose risks, silicone rings are a safe alternative. They are non-conductive and breakaway to prevent finger injuries.
Durability: Our custom silicone rings are designed to withstand the rigors of daily life. They are resistant to water, chemicals, and extreme temperatures, ensuring they maintain their quality and appearance.
Symbolic Value: While these rings are made from silicone, their symbolism remains as strong as any traditional metal ring. They represent love, commitment, and the special bond between two people.
Active Lifestyle: Men with active lifestyles, whether they're athletes, outdoors enthusiasts, or professionals in hands-on careers, will appreciate the convenience and comfort of a silicone wedding ring.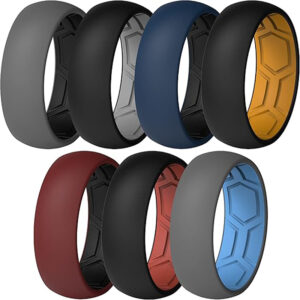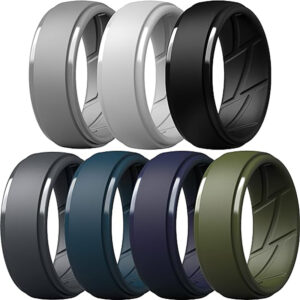 Our custom silicone wedding rings for men aren't just rings; they're unique expressions of love and individuality. When it comes to customization, we offer a range of options to ensure that your ring is a true reflection of your personal style and commitment:
Color Palette: Choose from a spectrum of vibrant colors to find the one that resonates with you. Whether it's a classic black, a bold red, or a subtle blue, you have the freedom to pick your perfect hue.
Design Elements: Add a touch of personal flair by selecting design elements that match your personality. You can opt for a sleek, minimalist look or go for a textured surface or engraved patterns for a more personalized touch.
Size Precision: Our rings are available in a range of sizes to ensure a perfect fit. We understand that a comfortable fit is crucial, so you can specify the exact size that suits you best.
Engraving: Make your ring truly special by adding custom engraving. Whether it's your initials, a significant date, or a meaningful phrase, engraving adds a personal touch that will be cherished forever.
Material Quality: Rest assured that our rings are crafted from high-quality silicone that is durable, safe, and hypoallergenic. We prioritize your comfort and safety.
Individual Style: Whether you're looking for a ring that matches your active lifestyle or a style that complements your fashion sense, our customization options allow you to create a ring that aligns with your individuality.