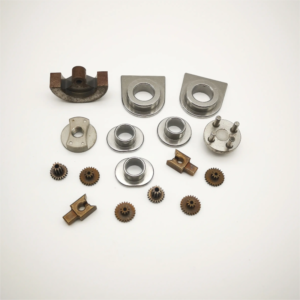 Product Description
Our Custom Metal Stamping Contact Plate Components are made from premium materials such as carbon spring steel, alloy spring steel, stainless spring steel, copper alloy, and nickel alloy. These parts undergo thorough surface treatments, including galvanization, nickel plating, black oxide, Dacromet, chrome plating, Nylok, and more, ensuring durability and resistance against corrosion. Customized to precise dimensions based on customer specifications, these components are utilized across a wide range of industries. From network devices and communication equipment to computers, household appliances, and educational toys, our metal stamping contact plates parts fulfill crucial roles. We provide tailored solutions, upholding the highest standards and catering to unique industry requirements.
Specification
Material: carbon spring steel, alloy spring steel, stainless spring steel, copper alloy, nickel alloy
Surface treatment: Galvanized, Nickel plated, Black Oxide, Dacromet, Chrome-plated, Nylok, White washing, Phosphate, Gold plated, Anti-corrosion coating, etc
Size: dimensions according to customers' requirements
Application: network devices, communication equipment, computers, household appliances, distribution systems, and educational toys, among others.
Sample Time: 7-12 Days
Lead Time: 15-25 Days
Payment Term: T/T, L/C 30% deposits, before the ship to pay the balance end. Freight are quote under your request
Packages Term: Inner Package: Vacuum, Outer Package: Carton
Delivery Term: By sea/Express
Our Key Advantages
A Decade of Expertise: Leverage our ten years of professional experience in the industry.
Precision Manufacturing: We create mechanical components with exacting precision, following technical specifications or samples diligently.
End-to-End Solutions: Experience streamlined procurement with our comprehensive services, covering everything from initial designs to the final product.
Exceptional Value: Benefit from our superior service, top-tier products, and competitive pricing, ensuring optimum value for your investment.
Experienced Team: Rely on our skilled engineering professionals and dedicated staff for seamless collaboration and efficient results.
Quality Assurance: Every product undergoes rigorous quality control inspections before shipment, ensuring unmatched quality and reliability.
Responsive Customer Service: Trust our highly-trained team to promptly address your inquiries and concerns, providing attentive and efficient customer support.