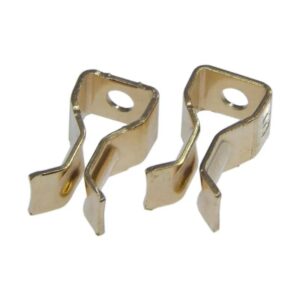 Product Description
Our Customized Metal Stamping Electronic Connection Components are made from diverse materials like carbon steel, stainless steel, and bronze. Boasting tolerances within 0.02mm to 0.1mm, these components guarantee unmatched accuracy. They offer versatile surface treatments, including plating, anodizing, and powder coating, enhancing both functionality and aesthetics. ISO9001 certified, we cater to various sectors, from automotive to medical and marine. Our expertise in OEM/ODM services ensures top-quality, certified parts, aligning with industry standards, and enhancing product performance and durability. Discover how our electronic components can elevate your solutions, offering reliable, high-quality results for a wide range of applications.
Specification
Material: carbon steel, stainless steel, spring steel, bronze, brass, copper alloy, aluminum alloy, tinplate, nickel silver
OEM/ODM: Available
Stamping Capacity: deep drawing, shaping metal
Surface treatment: zinc/nickel/chrome/tin plating, galvanization, anodizing, oil spraying, powder coating, polishing, passivate, brush, wire drawing, painting, etc.     
Tolerance: 0.02mm-0.1mm
Certificate: ISO9001
Usage: automotive and railroad components, medical equipment, marine machinery, lighting fixtures, pump bodies, valve components, architectural elements, and furniture manufacturing.
Transport Package: as per your requests
Sample Time: 7-12 Days
Lead Time: 15-25 Days
Payment Term: T/T, L/C 30% deposits, before the ship to pay the balance end. Freight are quote under your request
Packages Term: pvc bag + carton + pallet
Delivery Term: by sea/express
Our Extensive Metal Processing Solutions:
Tooling Development: Craftsmanship in creating molds and fixtures tailored to your metal processing requirements, enabling the production of bespoke components.
Prototype Fabrication: We specialize in designing and fabricating product prototypes for rigorous testing and validation of your unique concepts.
Precision Cutting: Employing advanced cutting tools to precisely carve metal materials into the desired dimensions and configurations.
Metal Stamping: Harnessing the power of punches and molds to transform metal sheets into specialized, meticulously-shaped components.
Welding Expertise: Employing skilled welding techniques to permanently unite multiple metal parts, ensuring structural integrity and durability.
Thread Tapping: Precision thread cutting on metal materials, a fundamental process in creating high-quality bolts and nuts.
Forming and Bending: Utilizing cutting-edge bending machinery to expertly shape and mold metal materials into specific, intricate designs.
Machining Mastery: Material removal through state-of-the-art machining equipment, such as lathes and milling machines, to craft precision parts.
Surface Enhancement: Elevating metal surfaces with treatments like plating, painting, and polishing to enhance aesthetics, corrosion resistance, and longevity.
Seamless Assembly: Meticulously piecing together individual components to form the final product, often involving integration with diverse materials like plastic and rubber to meet your comprehensive needs.