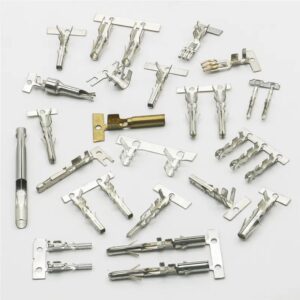 Overview
Our Compact 4-Pin Metal Stamped Female Connector Wire Terminal offers exceptional corrosion resistance and durability, featuring surface treatment choices such as tin plating, nickel plating, silver plating, and gold plating. With a precise tolerance range of 0.02mm-0.1mm, it ensures consistent and reliable performance across applications. Manufactured using cutting-edge equipment, including proprietary molds and high-speed precision continuous punching machines, this connector meets the highest industry standards. Rigorous oxidation tests guarantee resilience in challenging environments. Terminals play a vital role in connecting circuits and systems, managing various actions, and providing real-time feedback in modern machines. 
Specification
Material: brass, phosphor copper, beryllium copper, stainless steel SUS304/301, etc.
Color: gold, silver, black or as per customers' requirement
Surface treatment: tin plating, nickel plating, silver plating, gold plating, etc.
Tolerance: 0.02mm-0.1mm
Production equipment: independent research and development design and mold making; high-speed precision continuous punching machine and high-speed electric injection molding machine
Oxidation test: salt spray test
Certificate: ISO9001
Free samples: available
Sample Time: 7-12 days
Lead Time: 15-25 days
Payment Term: T/T, L/C 30% deposits, before the ship to pay the balance end. Freight are quote under your request
Packages Term: plastic bag + carton + pallet
Delivery Term: by sea/express
Application: automotive and railroad components, medical equipment, marine machinery, lighting fixtures, pump bodies, valve components, architectural elements, and furniture manufacturing.
Application
Automotive and Railroad Components Industry: The Small Female Metal Pin 4P Metal Stamping Wire Terminal Connector is a crucial component in automotive and railroad applications, facilitating seamless electrical transmission by connecting circuits effectively.
Medical Equipment Industry: Within the medical equipment sector, this connector plays a vital role in a variety of devices, ensuring the internal electrical systems operate with utmost reliability and stability.
Marine Machinery Industry: In marine machinery, this connector serves as a reliable link between diverse electronic and electrical systems, capable of withstanding the challenging marine environments and maintaining consistent performance.
Lighting Fixtures Industry: The Small Female Metal Pin 4P Metal Stamping Wire Terminal Connector is integral to various lighting fixtures, enabling uninterrupted current transmission and ensuring the proper functioning of lighting equipment for optimal illumination.
Pump Bodies Manufacturing Industry: Widely utilized in pump body manufacturing, this connector expertly connects various electrical components, guaranteeing the efficient operation of pump bodies by facilitating seamless electrical integration.