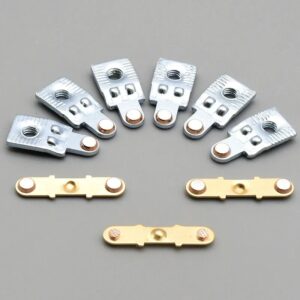 Product Description
Our Assembled Metal Stamped Electrical Contact Components are expertly tailored to meet diverse customer needs. Crafted from top-quality materials including Ag (silver), AgCdO (silver cadmium oxide), AgNi (silver nickel alloy), AgSnO (silver tin oxide), and Cu (copper), these components ensure exceptional performance and durability. They can be customized for various devices, with options like CJX2-09, CJX2-12, CJX2-18, CJX2-25, CJX2-40, CJX2-65, and CJX2-80 terminals, addressing diverse connection requirements. Our ISO 9001 certification guarantees product quality. We offer free samples for evaluation and provide OEM and ODM services for tailored production. These Electrical Contact Assembled Metal Stamping Parts are widely used in network devices, communication equipment, computers, household appliances, and distribution systems. Renowned for customization, premium materials, and reliable performance, our products consistently deliver excellence and dependability.
Specification
Type: contact assemblies
Material: Ag, AgCdO, AgNi, AgSnO Cu
Size: dimensions according to customers' requirements
Terminal type: CJX2-09 12 18 25 40 65 80
Certificate: ISO9001
Free samples: available
OEM/ODM: available
Sample Time: 7-12 Days
Lead Time: 15-25 Days
Payment Term: T/T, L/C 30% deposits, before the ship to pay the balance end. Freight are quote under your request
Package Term: vacuum packing with bags for inside packing; small custom-made cartons for inside packing; big hard carton for outside packing; pallet packing for shipping; or as per your requirements
Delivery Term: By sea/Express
Application: network devices, communication equipment, computers, household appliances, distribution systems
Application
Network Switches: Our Source Electrical Contact Assembled Metal Stamping Parts find widespread use in network switches, ensuring stable device connections and enhancing network performance and reliability.
Communication Devices: In devices like mobile phones and wireless routers, our products ensure stable signal transmission, guaranteeing high-quality communication.
Computer Systems: These components are seamlessly integrated into computer motherboards, ensuring secure electrical connections among various parts and enabling the smooth operation of computers.
Household Appliances: In appliances like washing machines and refrigerators, our products establish reliable electrical connections between components, ensuring the efficient functioning of home appliances.
Distribution Systems: Within diverse distribution systems, our products are essential for maintaining reliable connections between different electrical components, ensuring the stability of the entire system.