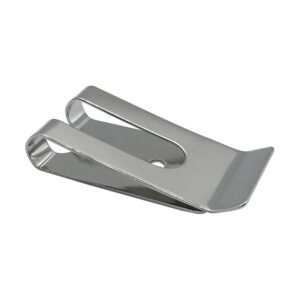 Product Description
Our China Customized Nickel Plated Stainless Steel Clips are expertly designed for a multitude of applications. These versatile metal stampings serve as secure clamps, fasteners, and brackets, ensuring precise pressure to hold objects together. Crafted from durable stainless steel and expertly nickel-plated, our clips offer exceptional corrosion resistance. ISO9001 certification guarantees adherence to stringent quality standards, ensuring reliability in critical situations. Utilizing advanced metal stamping techniques, these clips find applications in medical, industrial equipment, automotive, electrical, building, furniture, household, and machine assembly sectors. From instrument panels to control switches, they provide unmatched stability and durability. Our Stainless Steel Clips with Nickel Plating embody reliability and precision. Trust them for enduring performance in vital applications. Experience the pinnacle of quality with our meticulously engineered stainless steel clips.
Key Specifications:
Material: brass, carbon steel, stainless steel, copper, aluminum, copper, bronze, iron and other available metal raw material.
Surface treatment: clean, polishing, zinc plating, nickel plating spraying, anodizing and powder coating.
Processes: milling, turning, machining, straightening, punching, pressing, forming, trimming and drawing
Tolerances: ±0.02 to ±0.05 mm
Customized design: according to customer's drawing or special requires
Features: no burrs, anti-corrosion, no deformation
Certifications: ISO 9001
Test: 48H salt-spray testing, 2D testing, plainness testing
OEM/ODM: available
Packing: PE bag, reel packaging, plastic box, with wooden case after fumigation or according to
Typical applications: medical, industrial equipment, automotive, electrical, building, furniture, household, machine assembly
Our Strengths
OEM Specialization: We specialize in producing OEM components, encompassing metal stamped, machined, deep drawn, and sheet metal formed parts. Our expertise extends to a variety of surface finishes, ensuring diverse options for our clients.
Advanced Technology: We employ cutting-edge machinery, including punching, welding, CNC, milling, and grinding equipment, all operated by skilled and reliable professionals. This combination guarantees precision and high-quality production.
Experienced Team: Supported by a team of seasoned technical experts, we are dedicated to continuous technical advancement. Our workforce includes proficient laborers, adept engineers, and an exceptional foreign trade team. Together, we are passionate about effectively assisting our customers.
Application
Medical Industry: Employed in surgical tools, medical device assemblies, and diagnostic equipment, ensuring precision and reliability.
Industrial Equipment: Used to secure components in machinery, conveyor systems, and industrial equipment assemblies for optimal performance.
Automotive Sector: Essential for vehicle engines, interiors, and braking systems, ensuring safety and efficiency.
Electrical Appliances: Ensures secure connections in circuit boards and control panels, enhancing the reliability of electrical devices.
Building and Furniture: Secures panels, frames, and structural components in constructions and furniture, ensuring stability and durability.
Household Items: Utilized in appliances, fixtures, and various household products, enhancing functionality and longevity.
Machine Assembly: Essential for securing moving parts and assemblies in industrial machines, ensuring smooth operation and longevity.