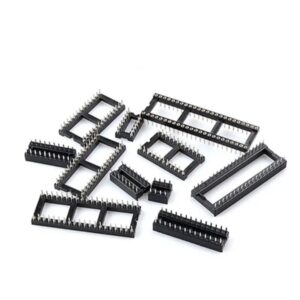 Overview
Our advanced IC sockets are crafted for reliable connections between component conductors and printed circuit boards (PCBs). Designed with precision, these connectors eliminate worries about PCB bending during compression, ensuring secure and hassle-free connections. Simplifying board design, our IC sockets allow effortless reprogramming, seamless expansion, and easy repair or replacement. Unlike traditional soldering methods, our innovative design provides a cost-effective solution, reducing risks associated with soldering techniques. Embrace the convenience of our IC sockets, offering dependable connections and straightforward integration for your electronic applications.
Specification
Material: brass, phosphor copper, beryllium copper, stainless steel SUS304/301, etc.
Color: gold, silver, black or as per customers' requirement
Surface treatment: tin plating, nickel plating, silver plating, gold plating, etc.
Tolerance: 0.02mm-0.1mm
Production Equipment: independent research and development design and mold making; high-speed precision continuous punching machine and high-speed electric injection molding machine
Oxidation test: salt spray test
Certificate: ISO9001
Free samples: available
Sample Time: 7-12 Days
Lead Time: 15-25 Days
Payment Term: T/T, L/C 30% deposits, before the ship to pay the balance end. Freight are quote under your request
Packages Term: plastic bag , carton and pallet
Delivery Term: by sea/express
Application
Laptop and Desktop Computers: Our robust LGA sockets, reinforced with sturdy plates, establish reliable connections with microprocessor packages. By preventing PCB bending during compression, they ensure stability in both laptops and desktop computers, guaranteeing seamless performance for various computing tasks.
Server Systems: In server environments, our mPGA and PGA sockets play a pivotal role. Customizable in over 1,000 positions, mPGA sockets offer a zero-input force interface to microprocessor PGA packages. Meanwhile, PGA sockets, available in standard arrays, ensure a secure connection to the PCB using surface mount technology (SMT) solder. These sockets enhance efficiency and reliability in server systems, addressing the high computational demands of modern server applications.
Specialized CPU IC Sockets: Our intricately designed IC sockets cater to high-performance CPU processors. These sockets ensure reliable compression interconnects, optimizing functionality in CPU-intensive tasks such as data processing, simulations, and complex calculations. With consistent and stable performance, our IC sockets are ideal for cutting-edge computing applications.