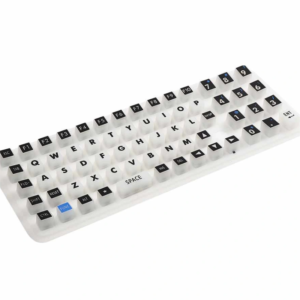 Product Description
Silicone Button Membrane, also known as Rubber Membrane Buttons, Silicone Rubber Membrane Keypad & Keyboard, Rubber membrane keyboard, and Silicone Rubber Button Pads, is manufactured from a transparent elastomeric silicone rubber material. It is produced through either silicone button compression molding or liquid silicone rubber (LSR) injection molding techniques. Silicone Button Membranes are commonly used in electronic keypad switches, remote control device buttons, medical devices, and machinery control interfaces.
Specification
Material: Silicone Rubber
Color: transparent and other colors
Legends: Screen Printing or Laser Etching & Engraving
Hardness: Shore A 30°~80°
Performance: Aging resistance, cold resistance, heat resistance, chemical stability
Molded Way: Compression Molding
Certificate: ISO9001-2015, IATF16949
OEM/ODM: available
Samples: free available samples
Logo: Customized (Silkscreen logo, embossed or debossed logo)
Application: Agricultural, Industrial, Medical, Vehicle, Electronic, Household
Manufacturing Process
Material Preparation: Commence with the preparation of high-clarity elastomeric silicone rubber material.
Initial Vulcanization: Execute the first vulcanization step using compression molding to establish the silicone rubber button pad's foundation.
Color Coating: Apply black and white coatings to achieve the desired visual appearance.
Laser Engraving: Utilize laser technology for precision and clarity while etching characters onto the button surfaces.
Screen Printing: Employ silkscreen printing to enhance the visual aesthetics of the buttons with intricate designs.
Polyurethane Finish: Apply a polyurethane (PU) coating to ensure durability, resistance, and a smooth surface finish.
Epoxy Seal: Add an epoxy coating to enhance the keys' resilience and longevity, even under various conditions.
Trimming and Defect Removal: Conduct a die-cutting process to eliminate any burrs or imperfections from the silicone button membrane, ensuring a flawless and polished final product.
Adhesive Layer Application: Attach a 3M adhesive layer to simplify and secure the silicone button membrane's installation in the intended devices or applications.
Conductive Silicone Button Membrane:
Variants: The Silicone Button Membrane is available in conductive and non-conductive versions.
Non-Conductive Variant: Non-conductive Silicone Membrane Keyboard Covers function as keycaps for electronics without conductivity. They enable backlighting by placing LEDs beneath the silicone pad or using techniques like laser etching.
Conductive Variant: Silicone Rubber Button Pads with conductivity utilize methods such as conductive ink printing, carbon pills, metal dome, metal pills, and nickel pills beneath the keys. These methods offer varying resistance levels, allowing customers to choose according to specific keypad requirements. Conductive ink printing and carbon pills are commonly used for conductivity.