Silicone Oxygen Mask Medical-grade LSR Total Face Masks
Material: These masks are typically crafted from medical-grade LSR silicone, ensuring safety, non-toxicity, and biocompatibility.
Full Face Design: They are full-coverage masks that encompass the entire face, providing comprehensive oxygen delivery. This is especially crucial for patients requiring high-concentration oxygen therapy.
Soft and Comfortable: Due to the flexibility of silicone, these masks are exceptionally comfortable for extended wear. Their design aims to ensure patient comfort during use.
Sealing Performance: The mask is designed to offer excellent sealing performance, ensuring oxygen does not leak and is effectively delivered to the patient.
Adjustability: Typically, these masks feature adjustable head straps to accommodate different head sizes and shapes, providing a personalized fit.
Versatile Applications: Medical-grade LSR silicone total face masks find application in various medical settings, including emergency care, surgeries, oxygen therapy, and sleep breathing treatments.
Cleaning and Maintenance: These masks are easy to clean and maintain to ensure hygiene and compliance with medical equipment sanitation standards.
High Quality and Reliability: Precision manufacturing ensures these masks meet stringent quality and reliability standards, satisfying the rigorous demands of the medical field.
Medical Oxygen Therapy: They are commonly used in medical oxygen therapy to provide high-concentration oxygen to meet patients' oxygen needs, such as in emergency care or the treatment of chronic respiratory conditions.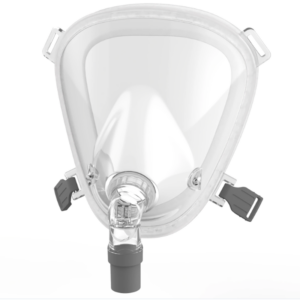 Information Required for OEM Service:
1. Offer 2D/3D designed drawings, samples or tell us your ideas.
2. Materials demands: silicone, rubber, LSR or other materials.
3. Material class demands: food grade, industrial grade, medical grade or flame-retardant materials.
4. Working environment: like working temperature, chemical environment, etc.
5. Hardness demands: 10-80 Shore A (Durometer).
6. Order quantity and anual order quantity.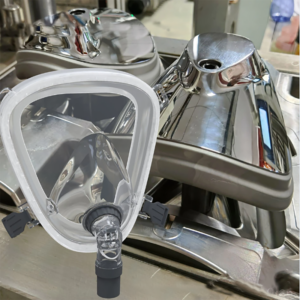 Medical-grade LSR silicone total face masks are vital medical devices that ensure patients receive the necessary high-concentration oxygen while offering comfort and reliability, meeting the clinical requirements of the medical field.