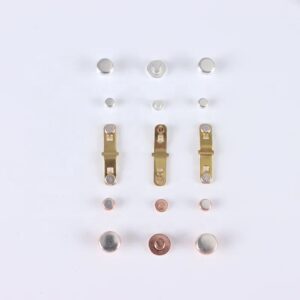 Overview
Experience dependable electronic connections with our Riveted Electrical Contacts. Precision-crafted from premium materials including brass, copper, and beryllium copper, these contacts ensure superior electrical performance. Manufactured using progressive die metal stamping and in-house cold heading processes, they boast an impressive tolerance of ±0.01. Our state-of-the-art equipment, including a 45-ton punch press, guarantees unmatched precision. Choose from surface treatments such as silver, zinc, nickel, tin, and chrome plating to meet your specific requirements. Rigorous quality control, including hardness testing and chemical analysis, ensures uncompromising reliability. Ideal for automotive, network devices, communication equipment, and more. Explore tailored solutions through our OEM/ODM options.
Specification
Material:
Terminal: Brass-CDA260, Copper, Phosphor copper, Beryllium Copper
Rivet: AgNi /Cu, AgCdO/Cu ,Ag,Ag/Cu, AgSnO2/Cu, Gold Plated, Brass
Capabilities Applied/Processes:
progressive die metal stamping
Cold Heading: form rivet in house

Assembly:silver contact to terminal
Tolerances: ±0.01
Equipment: 45 ton punch press, cold heading toggle
Surface Treatment: silver/zinc/nickel/tin/chrome plating, pickling, powder coating, hot galvanized, polishing, brushing, etc.
Test Equipment: hardness tester, chemical analysis, digital measuring projector, dynamic balancing tester, plating tester
Application: automotive, network devices, communication equipment, computers, household appliances, distribution systems
OEM/ODM: available
Samples: free available samples
Sample Time: 7-12 Days
Lead Time: 15-25 Days
Payment Term: T/T, L/C 30% deposits, before the ship to pay the balance end. Freight are quote under your request
Packages Term: Inner Package: PE Bag, Outer Package: Carton
Delivery Term: by sea/express
Surface Treatment
Electroplating Choices: Enhance conductivity and corrosion resistance with silver, zinc, nickel, tin, or chrome plating.
Surface Preparation: Impurities are removed through pickling, ensuring superior coating adhesion.
Protective Powder Coating: Apply a durable layer, safeguarding against wear and environmental factors for extended product life.
Hot Dip Galvanizing: Add an extra corrosion-resistant layer, ideal for outdoor applications, boosting overall durability.
Surface Refinement: Achieve a polished, flawless texture through brushing, enhancing contact precision and conductivity.
These varied surface treatment methods guarantee our Riveted Electrical Contacts for Reliable Electronic Connections exhibit superior conductivity, resilience, and performance in diverse electronic applications.