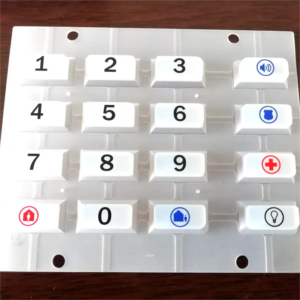 Product Description
Our Laser Etched Printing Transparent Silicone Rubber Keypad is crafted from top-tier silicone rubber, it is available in a spectrum of colors and boasts a Shore A hardness range of 30° to 80°, ensuring both flexibility and robustness. Legends are meticulously applied using either screen printing or precise laser etching and engraving techniques. Custom sizes are readily available, with the keyboard being expertly crafted through advanced methods such as compression molding and injection molding. It offers diverse conductive options, including carbon pills, conductive ink printing, metal domes, and metal pills. To enhance protection and longevity, the keyboard can be coated with PU, matte smooth coatings, epoxy, or various plastic/metal materials. Resistant to aging, extreme temperatures, and chemicals, it has undergone rigorous certification, including ISO9001-2015 and IATF16949, making it an ideal choice for OEM/ODM requirements.
Specification
Material: silicone rubber
Color: transparent and other colors
Hardness:shore A 30°~80°
Size: customized size
Legends: screen printing or laser etching & engraving
Molded Way: compression molded & injection molded
Conductive Way: carbon pills, conductive ink printing, metal domes, metal pills
Surface Protective: pu coating, matte smooth coating, epoxy coating, plastic & metal
Performance: aging resistance, cold resistance, heat resistance, chemical stability
Certificate: ISO9001-2015, IATF16949
OEM/ODM: available
Samples: free available samples
Logo: customized (silkscreen logo, embossed or debossed logo)
Application: agricultural, industrial, medical, automotive, electronic, household
Application
Electronics Industry: Laser-etched transparent silicone rubber keyboards find extensive usage in cutting-edge electronic devices such as smartphones, tablets, and remote controls, offering users a reliable and stylish interface.
Medical Devices Sector: Within patient monitoring systems and medical diagnostic equipment, transparent silicone keyboards guarantee easy sanitization, upholding a sterile medical setting.
Industrial Automation: Employed in industrial control panels and automation systems, these keyboards, resistant to corrosion and high temperatures, fulfill the rigorous demands of challenging industrial environments.
Automotive Manufacturing: Integrated into vehicle infotainment systems and control panels, transparent silicone keyboards provide adaptable sizes and exceptional heat and chemical resistance, delivering superior performance in automotive settings.
Household Appliances: Laser-etched transparent silicone rubber keyboards are utilized in household appliances like microwaves and dishwashers. Their resistance to wear and ease of cleaning make them ideal for kitchen appliances, ensuring longevity and dependability.
Agricultural Sector: In agricultural machinery, these keyboards regulate drones, seeders, and irrigation systems. Dustproof and waterproof, they excel in outdoor settings, guaranteeing efficient agricultural operations.