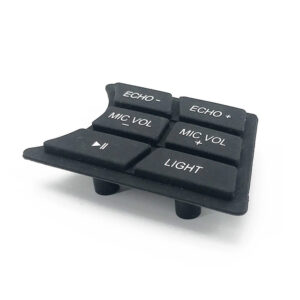 Overview
Unmatched Durability and Personalization: Matte Finish Silicone Rubber Keyboard is meticulously crafted from high-durability silicone rubber, featuring a unique keystroke design that guarantees exceptional longevity and an unparalleled user experience. Its matte surface finish not only exudes sophistication but also complements its sturdy construction seamlessly. Designed with versatility in mind, this keyboard offers optional LED backlighting, catering to a diverse range of customer preferences. Whether you prefer transparency or custom colors, our keyboard delivers, striking the perfect balance between comfort and resilience, thanks to its silicone rubber material with a hardness range from shore A 30° to 80°. Rest assured, our keyboard is certified to meet stringent ROHS and ISO9001 standards, ensuring unmatched reliability and safety. Its customizable size, precise printing options (silk screen, radium carving), and compression molded construction make it the ultimate choice for those in search of both durability and personalized keyboard solutions. Enhance your typing experience to new heights with our durable Matte Finish Silicone Rubber Keyboard.
Specification
Material: silicone rubber
Color: transparent or any colors
Hardness: shore A 30°~80°
Size: customized size
Tolerance: based on customer's requirement
Printing: silk screen, radium carving
Molded Way: compression molded
Conductive Way: carbon pills, conductive ink printing, metal domes, metal pills
Surface Protective: PU coating, matte smooth coating, epoxy coating
Performance: aging resistance, cold resistance, heat resistance, chemical stability, waterproof, eco-friendly, durable
Certificate: ISO9001-2015, IATF16949, ROHS
OEM/ODM: available
Samples: free available samples
Packing: PE bag & carton, customized packing
Logo: silk printing, laser etching
Application: industrial, medical, automotive, consumer electronics, household, etc
Application
Our keyboards are engineered for rugged industrial environments, delivering reliable input solutions for machinery control panels, manufacturing equipment, and automation systems. With robust durability, they ensure seamless operations in challenging industrial settings.
Specifically designed for medical applications, these keyboards provide hygienic and durable input solutions for medical devices, diagnostic equipment, and hospital information systems. Their reliability is crucial for maintaining seamless operations in critical medical environments.
Automotive applications benefit from our keyboards in control panels, infotainment systems, and vehicle diagnostics. Their exceptional durability makes them ideal for withstanding the demanding conditions within vehicles, ensuring reliable performance in the automotive industry.
From gaming consoles to remote controls, our keyboards serve as customized and long-lasting input methods for various consumer electronic devices. They enhance user experience and significantly contribute to the longevity of electronic products, ensuring a seamless interaction between users and their devices.
Integrated into smart home devices, kitchen appliances, and home automation systems, our keyboards offer a dependable and customizable interface. They facilitate user-friendly interactions in everyday tasks, making household appliances more intuitive and efficient.
Telecommunications Sector:
In the realm of telecommunications, our keyboards are utilized in telecom equipment, providing durable and customized input solutions for devices like switches, routers, and communication systems. Their reliability ensures smooth functioning of critical telecom infrastructure, enhancing overall operational efficiency.